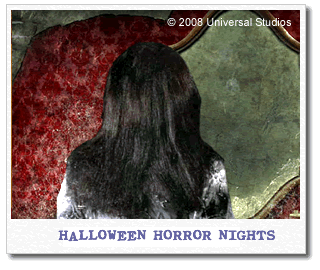 Halloween Horror Nights seems to be this country's best kept secret when it comes to Halloween festivities. It is a huge local event at Universal Studios Orlando, as well as Universal Studios Hollywood. Thousands of horror fans are drawn in to this annual event. Now in its 18th year, it is said to be scarier than ever!
For over 75 years Universal Studios has been making horror films that have stood the test of time. Universal Studios reflects their expertise in horror with their annual interpretations of Halloween Horror Nights. Each year leads a different theme and scare-tactic. This year, Universal Studios Orlando plays on the imagination of a child. Everything that scared you when you were younger has come back to haunt you at this year's Halloween Horror Nights. Bloody Mary, the Boogie Man, twisted Fairy Tales, and, of course, Jack the Clown. But there is a major twist to this year's party there is no where to hide! Usually at Halloween Horror Nights, there are safe-zones where you can peacefully walk without having anything jump out at you. But, this year, there is none of that. You are completely immersed in the horror experience.
With terrifying haunted houses, stomach-curling scare zones, and spooky live shows and experiences you are sure to turn white as a ghost with terror. Nightmares lurk around every corner. The only escape routes you may find from the terror are by going on the rides. Some of the park's rides will remain open, as a terror-relief. Other ways to avoid the terror may be to check out the Rocky Horror Picture Show Tribute or watch the amazing magic show of Brian Brushwood. Brian Brushwood has been acclaimed by celebrities and audiences alike, with his intense, entrancing, and, even, disturbing feats of magic.
Halloween Horror Nights may be too intense for young children. The event features gory and horrific, costumes, make-up, scenes, scenarios, and more. Costumes are not allowed to be worn in the park by guests. The country's premier annual event will be held September 26 & 27, October 2-5, 9-12, 16-19, 22-26, 29-31, and November 1 at Universal Studios Orlando. Your ticket admission to Halloween Horror Nights also grants you admission to most of the CityWalk nightclubs, as well. What better way to have a spook-tacular Halloween?! There are even combo tickets where you can get admission to either Universal Islands of Adventure or Universal Studios Orlando, as well as admission to Halloween Horror Nights. Buy your tickets today! Tickets tend to sell-out on popular nights!