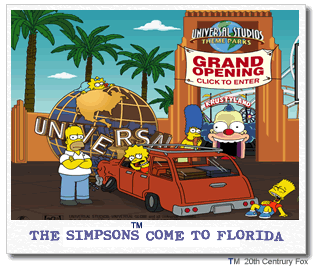 If you havent been to Universal Studios in Orlando, Florida in a while, you really need to head over there on your next Florida vacation. The face of the park is truly changing. They are upping their ante with there new attractions like the Mummy Ride, an indoor roller coaster adventure based on the hit movie, and now their newest addition, The Simpsons Ride!
The Simpson's Ride truly adds a whole new dimension to the park. Taking over the original Back to the Future Ride space, Universal completely gutted the interior and exterior of the building turning it into what you would imagine Springfield to be like from the world-famous cartoon! A crazy and whimsical world, with bright colours, and all of your favourite characters awaits you. As you enter the ride queue it looks just like a giant carnival. But, this time the carnival has been created by Krusty the Clown so expect some bumps and turns along this attraction. Krustyland is the newly created theme park by Krusty the clown and you are invited to ride along with the Homer, Marge, Bart, Lisa, and Maggie, too, as they experience the park.
The ride is an action simulator ride that goes along with an 80-foot dome surface digital projection. The screen projects the movie adventure to four times that of the high definition you may use in your home. The surround sound and movement of the ride make it seem like you are right in the middle of all the action. The ride, as well as the outside queue area, uses brand new Simpsons animation that was created specifically by the Simpsons animation crew for Universal Studios. All of the character voices are performed by the original stars of the show.
The Simpsons Ride can be found on the Studios side of the Universal Theme Park in the World Expo area. Make sure you check out Universal Islands of Adventure, as well, while you are visiting the parks for some of the best roller coasters and attractions in the country! Get your Universal tickets ahead of time to avoid waiting in the long lines outside the par