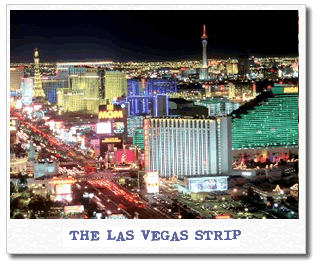 We have a treat for our readers today- Courtney from the Best of Vegas.com has written a story for us and has some great ideas for anyone visiting Las Vegas!
There has never been a more exciting time to visit the Las Vegas, Nevada! With Las Vegas constantly changing, there is always something new and exciting to see on the Strip. Whether it is a new hotel, nightclub, or show, you are sure to see something unique. This year may mark one of the most exciting show changes in Vegas history. Some of the biggest names are heading right for Sin City and you need to make sure you check them out!
Grammy Award winners seem to be attracted to the glitz and glam of the Strip, especially for 2008! In 2008, alone, Cher, Elton John, and Bette Midler will all be performing in Vegas and all at the same location! The Colosseum at Caesars Palace is THE spot to see performances this year. All three artists will be performing at the 4,100 seat Caesars venue. The performers will be trading out time spots throughout the year. America's sweetheart, Bette Midler , has been performing in Vegas since her February debut. Bette took over for Celine Dion's long run at Caesars. Bette performs some of her famous hits, as well as her light sense of humor, which will make you fall in love with her and her bubbling personality. Cher began her Las Vegas run back in May. Make sure to check out the pop sensation on this tour, because this may be her last live run! She said that she was done on her Farewell Tour, but nothing can seem to stop this pop diva from trucking on. She will even be keeping her original style by reuniting with her infamous costume designer Bob Mackie. And, to top off the Grammy winner trifecta there is Elton John The legendary singer, song-writer, and all-time musical genius will be performing his classic hits at the Las Vegas venue throughout the year. Elton's colorful persona and music define everything that is Las Vegas, so Elton fits perfectly with the personality of the city!
One thing that never seems to change in Vegas is that of the popularity of Cirque du Soleil shows. Well, Vegas has done it again! There is a brand new Cirque show, but this time with a magical twist literally. Illusionist and magician Criss Angel has teamed up with Cirque for a multi-million dollar production, to premiere at its October 10th gala opening. The show is named Criss Angel BELIEVE after the legend of Houdini. As one of the greatest magicians of all time, Houdini said on his death bed that those who are able to speak with him from the dead will know the codeword: Believe. Having over a year of thought and production put in to it, this new Cirque show will reshape the way we look at magic. Using mind-boggling tricks, art, acrobatics, dancing, puppetry, and a specially designed soundtrack this show will have your eyes playing tricks on you.
You do not want to miss any of the new shows on the Strip! If there was any year to head to Vegas, 2008 would be it! Get your tickets ahead of time to all of the shows, nightclubs, and tours of Las Vegas!