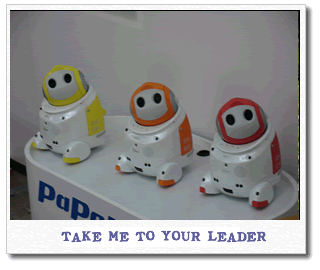 Nagoya was the home of Expo in 2005 and one of it's most popular attractions were robots. So many of the robots featured at Expo and quiet a few others now make up Japan's first Robot Museum in Nagoya. The two storey complex has a huge range of robots and many interactive displays, including manufacturing robots, toy robots and the next big thing helper robots. Already companies like Honda and Toyota are planning to produce robots which will live and assist around the home and be more than a futuristic gimic. The museum has over 1000 exhibits and a gift shop which is just as big with plenty of toys and gizmos to empty your wallets. Click our more info link to visit the official website- the Japanese cartoons are really fun.
For more information visit www.robot-museum.net
Postnote: we have been informed the Robot Museum may now be closed the message on their website reads in 'Jinglish'
"Completely Closed from Oct 1st 2007 Please be careful, not available now"
It is unclear from the information we have wether it will reopen, keep checking their website and hopefully some useful information will develop- who knows?
Post-postnote: it looks like a few exhibits from the museum have temporarly moved to Aichi Institute of Technology head temple campus for display.