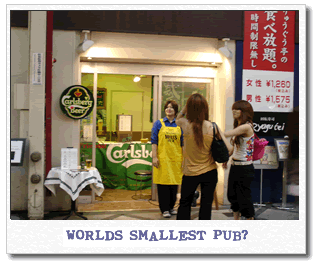 When travelling up Shinsaibashi-suji shopping mall in Osaka which is an undercover shopping strip which runs over 1.8 km we came across this great little pub. It served crispy cold Carlsberg beer on tap and nothing else, they only had 8 glasses. The pub was no more than 2 metres long by about 1.5 metres deep had a bar and 2 bar stools. You rubbed shoulders with the other person if there was more than 2 people in the bar. Anyway the service was friendly and the beer sure was refreshing.
More Shinsaibashi info at our sister site Happy Jappy
Satellite pic of the Shinsaibashi-suji and Dotonbori intersection.