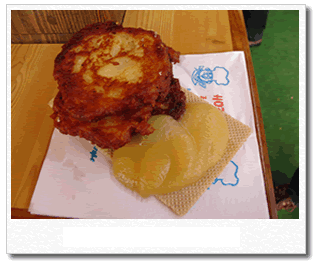 A Munich delicacy is the this Kartoffel a shredded potato Pattie which is fried in hot oil until golden brown and then served with apple sauce. It is a great snack and goes well with a nice cold beer.
This photograph was taken at the Kartoffelhaus stand at Munich's Oktoberfest where thousands were served every day and for only one Euro its not hard to see why. No visit to Munich would be complete without trying one or two of these tasty treats.
Satellite view of the huge area where Oktoberfest is set up.