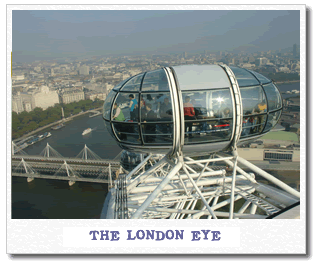 No holiday to London would be complete with out a ride on the London Eye it is truly breathtaking. This monstrous observation wheel is 135 meters high, the biggest in the world- although Singapore is building a larger one and knowing how Japan loves Ferris wheels, they probably won't be too far behind.
The attraction isn't cheap but it is well worth the time and money, they say an average of 10,000 visitors travel on it a day.
If you are lucky enough to be in London on a clear day you will see close to 40 kilometers but even if it is cloudy you will get a great view of the city, Big Ben and other popular London landmarks.
It's best to get there early to avoid the rush at the ticket box. The ride takes about 30 minutes to do the one circle. The capsules are all glassed in and very comfortable, there are 32 in total and they each hold about 20 people. Security is paramount and inspectors check the capsule after each trip and there are restrictions on some items being taken onto the ride.
The wheel is an amazing engineering feat, the amount of steel in the structure is amazing, it is claimed there is over 2100 tones of weight in the structure, which travels 26cm per second around the 424m circumference.
Satellite view of the London Eye