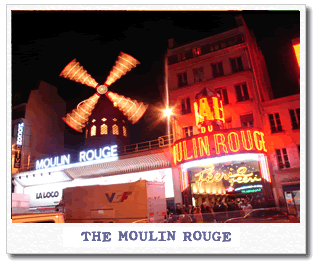 The Moulin Rouge is probably the most famous of all the world's cabarets dating back to 1898 it is remembered for its legendary showgirls and more recently remembered in the Baz Luhrman film staring Ewan McGregor and Nicole Kidman.
In the daylight the Moulin Rouge is a bit of a disappointment its a shabby old place and it sits in one of Paris's seedier areas which is jammed packed with strip places and sex shops, but at night when the lights come on the Moulin Rouge building comes alive with it's neon lit windmill and signage.
The show itself is really what people come to see, although expensive, probably pricing itself of its legend, the show really is spectacular and is well worth the fortune you pay for admittance tickets prices of 150 Euro are not uncommon. The easiest way to visit the Moulin Rouge is by subway, take the Blanche Metro station, the area is fairly safe but remember it is not Paris's best side of town so keep your eyes open and keep an good eye on your valuables.
Official Site: http://www.moulinrouge.fr
Map showing the Moulin Rogue