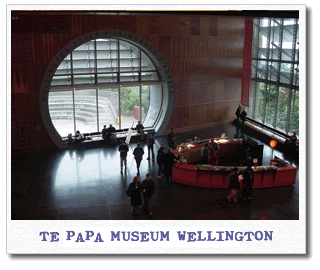 Te Papa Museum is the Museum of New Zealand and would have to be one of the best museums found anywhere in the world located on Wellington's beautiful waterfront the Te Papa has an amazing range of exhibits which will educate young and old and a great way to learn about New Zealand, its people, its land and its culture.
There are spectacular animal exhibits which show some of New Zealand's unusual wild life, a dinosaur hall and very interesting earthquake exhibition. There are always special exhibits showing and the museum and kids will love the discovery centres which are specially tailored to the young.
The museum building itself is an amazing structure, taking over four years to construct making it one of the largest museum projects in the world. Interestingly the building is built on huge shock absorbers to protect the centre's priceless collection from ground movements during regular New Zealand earthquakes.
Links
http://www.tepapa.govt.nz
Map showing the Te Papa Museum in Wellington New Zealand