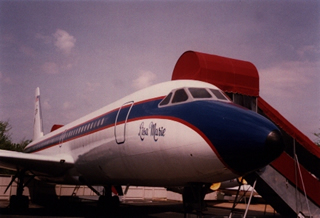 The Lisa Marie is a Convair 880 jet which was once owned by the King of Rock n Roll Elvis Presley. The plane about the size of a 707 was used by the king and his entourage to travel between Graceland and Elvis's performances all over the United States. Unfortunately Elvis only owned the jet for a few years before his untimely death in 1977.
There are lots of legendary stories about Elvis and his plane but one of the favorite which gets told time and time again. Elvis was a bit hungry and needed his favorite peanut butter and jelly sandwich to quench his hunger, the only problem was the best sandwiches were in Denver. So Ron Strauss his pilot flew the Lisa Marie from Memphis to Denver to pick up enough sandwiches for Elvis's snacktime.
The airplane is part of the extensive Elvis collection on exhibition as part of Elvis's Graceland mansion in Memphis Tennessee. The plane sits next to the Hound Dog II which is a smaller aircraft Elvis also flew in. Nearly quarter of a million people visit Graceland every year to celebrate the life and times of Elvis and the Lisa Marie Convair 880 is one of the more popular attractions.