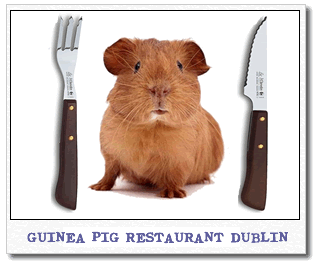 We were doing a bit of a search and came across the Guinea Pig Restaurant in Dublin and thought – oh thats just so wrong. How could you eat fluffy, well much to our relief the Guinea Pig dosen't have fury rodents on the menu just great fish. The restaurant has become quiet an institution in Dublin opening in 1957 and was a favorite dining venue for some fairly famous people including Peter Ustinov, U2's the Edge and Bono and even Sir Cliff Richard, and looking at the menu you can see why it looks delicious. Monk Fish, Sea Bass, Salmon and even honey roast duck not forgetting some tasty lamb and free range chicken, and no Guinea Pigs!
For more information
http://www.guineapig.dalkey.info/
the Guinea Pig – The Fish Restaurant can be found at 17 Railway Road, Dalkey in Dublin.