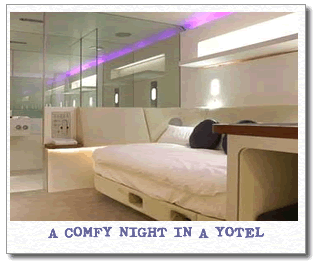 Capsule hotels are all the rage in Japan where space is limited and people just want a place to spend the night. Well some ingenious people have decided to open up a similar style of accommodation inside London's Gatwick Airport. Now there is no need to wait hours for flights trying to catch a few minutes sleep on those horrible plastic chairs in the terminal you can book into a luxury capsule and get some proper rest.
The Yotel as it is called has been brought to Britan by Simon Woodroffe who is also credited for bringing the convenor sushi train to restaurants in Britain, he must have a thing for great Japanese inventions, perhaps the Japanese Toilet Seat or Love Hotels will be his next venture. we can only hope.
The capsules are as you would expect small but feature some luxury products including mood lighting and access to digital TV and Wi Fi for doing those last minute emails before flying out. Woodroffe's company Yo! has also done some deals with other airport companies to arrange other much needed services like car transfers and business supplies and other items and services you might require during your Yotel stay. The first venture has 48 cabins and prices range from about 25 to 80 pounds a night.
Website http://www.yotel.com
Satelite view of Gatwick Airport