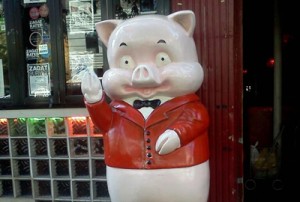 Any city we visit we always like to find a cool bar to have a refreshing beer at and they don't come much cooler than Rudy's in New York's Hells Kitchen.
Rudy's got one of New Yorks First Liquor licences after the end of prohibition back in 1933, today not much has changed except for a few additions of artwork, a large pig out the front door known as Baron Von Swine and a few rolls of Gaffa Tape holding the couches together.
The Dive Bar decor is not the only cool thing about the place as Rudys has become known as one of the cheapest venues in NYC for Beer, with pints of Rudy's Blond starting at only $2.50. Even cheaper are the Hot Dogs, they are free.
If you are in New York we highly recommend checking out Rudy's for a great time and a cheap beer. Rudy's is located in Hells Kitchen on 9th Avenue near 44th Street.
Rudys Website http://www.rudysbarnyc.com/home.html