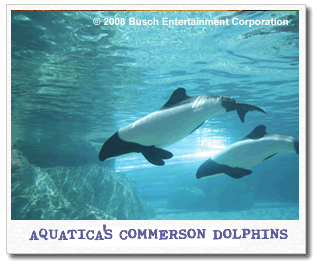 This is ANYTHING but your typical waterpark! Who could create a waterpark better than SeaWorld? SeaWorld has created its first waterpark with Aquatica in Orlando, Florida. It really is something to see! At Aquatica, SeaWorld has taken their sea-life theme to a whole new level. Aquatica is located right across the street from SeaWorld on International Drive, only 15 minutes from the Orlando International Airport.
Loaded with some of the wildest slides, animals, and waterpark attractions you have ever seen, you will not want to miss it. They have everything from high speed lazy rivers to one of the biggest child play areas in the country. Kata's Kookaburra Cove and Walkabout Waters give children a world they can call all their own. Filled with water spouts, fun kiddie rides, and a 60-foot water fortress, the child play area provides over 15,000 square feet of play space for young imaginations to run wild with! For those looking for adventure, they haven't forgotten about you! The Taumata Racer allows for a high-speed competitive race to the finish. Eight slides at this attraction allow you to zip to the bottom, head-first, and race your closest friends and family members. Other perfect family attractions are those of the exhilarating family tube rides, the giant wave pool, and the relaxing lazy river, which takes you through a huge grotto filled with tropical fish. This isn't the only spot where you can get up-close and personal with wildlife. The Dolphin Plunge at Aquatica is the most unique water ride in the country! The Dolphin Plunge shoots you out into a tube slide and then through the actual dolphin pool of the Commerson's Dolphins. The beautiful Commerson's Dolphins are tiny black and white dolphins that are known for their playful nature and quick speeds. As you shoot through their tank, don't be surprised if they swim right along side you. It is an experience you will never forget!
Aquatica is different, however, not through only its attractions but through their facilities as well. Aquatica offers dining facilities throughout the park. There is a great all-you-can-eat buffet, filled with your favorite barbeque cuisine and unlimited sodas. There is also a picnicking service, where you can get a picnic basket filled with food for your entire family and head out to Aquatica's very-own white sand beach for an ocean side picnic at the wave pool. There are clean locker rooms, lockers & beach towels for rent, and life vests available for free of charge, as well. With so much to offer, this newest Orlando attraction should not be missed when visiting the Sunshine State! Get your Aquatica tickets ahead of time, the park has been meeting capacity by as early as 10 am daily!